Purple Mash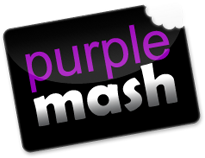 The school subscribes to the educational website Purple Mash, providing online access at school and at home for our children.
Purple Mash is used to teach our computing curriculum in school and has a wealth of resources and activities that we use to support teaching and learning in other subjects.
In Year 1 the children are taught about the importance of E safety and are given their own personal login information, which means that they can access the wealth or resources that Purple Mash has to offer at home. This can be accessed from the Children's Area of this site.
Here is an brief overview of some of the content
| | |
| --- | --- |
| 2 Create a story | Simple City |
| | |
| 2Create a Story allows children to create their own multimedia digital storybooks. There are three modes of 2Create a Story. | Explore locations such as the park, recycling centre, and the doctors to develop role play and language. |
| 2 Paint a picture | 2 Email |
| | |
| Is a simple to use painting program. It helps children to create various painting effects and combine these effect to make pictures. | Purple Mash has a completely safe child-friendly email tool where the children can only contact the contacts set up for them. |
| 2 Code | Maths City 1 |
| | |
| The Children can use 2Code in to help them understand what algorithms are and how they are implemented as programs on digital devices. | A world of mathematical adventure for younger learners to explore. |