Purple Mash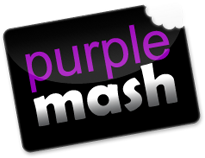 The school subscribes to the educational website Purple Mash, providing online access at school and at home for our key stage 1 children. With their login information, children can access Purple Mash from the Children's Area of this site.
Purple Mash is an online creative space specifically designed for learners aged 5 to 11, providing a collection of fun educational activities in the form of projects, games, apps and creative tools. The software is already used in school and is familiar to the children.
Here is an brief overview of the content.
Simple City

Explore locations such as the park, recycling centre, and the doctors to develop role play and language.

Mash cams

Add your own photo and turn yourself into a wide range of characters such as a fairy princess or a deep sea diver.

Paint projects

An enjoyable way to get virtually messy. Explore themed projects, their patterns and magical textured paint.

Maths City 1

Explore number and calculation by drawing parallels with everyday life.

Maths City 2

Experiment with shape, space and measure in the shoe shop, building site and birthday party.